500 Hour Yoga Teacher Training in Rishikesh,india
500 hour yoga teacher training in Rishikesh, is the most advanced yoga course. The course consists of a 200 hour yoga teacher training course followed by a 300 hour yoga teacher training course. If you want to be a great yoga trainer, this training is suitable for you. Every year hundreds of new yogis come to Shiv Holistic Yoga School to take up this course. And all of them go on to become yoga masters. You can also become an amazing yoga guru by pursuing our 500 hour yoga training.
This course is accredited by Yoga Alliance US. Therefore, you can be sure that you'll only receive top-quality training from the best and experienced yoga trainers in the world. Since, Rishikesh is the yoga capital of the world, you can expect that the best yoga gurus are available here only. Hence, if you are serious about becoming a yoga teacher in future, you should join this yoga teacher training as soon as possible.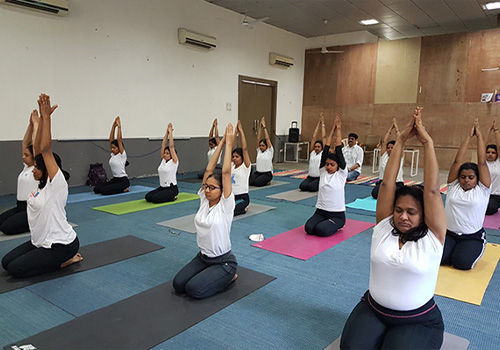 500 hour Yoga Teacher Training India At Rishikesh
Become a yoga pro and start giving training in not just India but around the world. This is our longest course and it helps you learn about yoga in detail. We are offering the 500 hour yoga training Rishikesh at a very affordable price, so that anyone can come and learn yoga.
Here are a few reasons why you should choose our yoga school.
Shiv Holistic Yoga School is one of the most popular yoga schools in Rishikesh. We have helped thousands of our students become successful yoga trainers.
We have a team of the best and highly experienced yoga trainers who know their job very well. They make sure that each student gets their full attention at all times.
We keep the number of yoga learners low in each batch so that you don't feel crowded. Moreover, it helps you learn at a fast pace.
During the training, you'll learn not just yoga poses, but also meditation and pranayama (breathing exercises). There's a lot to explore in this course.
The place where this happens, Rishikesh, is famous for yoga. And the school's facilities are awesome. We fulfill all your basic needs while you stay with us at our hostel.
When you're at our yoga school, your lifestyle will change a lot. You'll even follow a special diet that will help you with your transformation.
500 hour Yoga Teacher Training Rishikesh Detailed Guide
You will study about the following yogas in this course.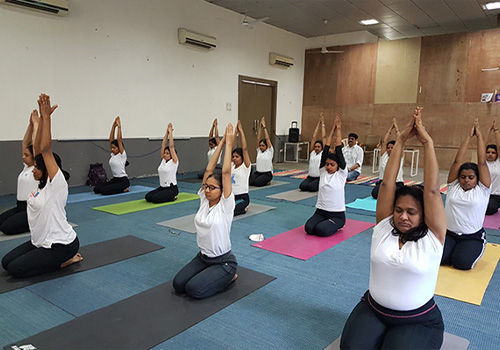 Hatha Yoga and Ashtanga-Vinyasa Yoga
Stretch, strengthen, and relax. Poses and breathing help balance your body and mind. A calm and powerful practice.
Meditation
Close your eyes, let thoughts go away. It helps you find peace, clears your mind, brings calm and focus. Just breathe and feel your inner self.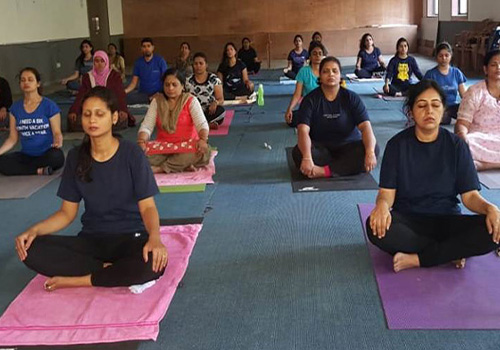 Pranayama
Breathe deeply, slowly. It's very helpful for your body and mind. Reduces stress, boosts energy, helps you stay cool under pressure.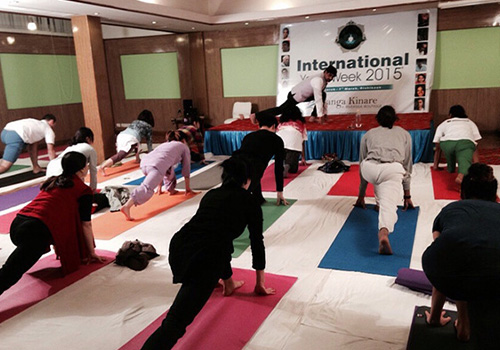 Yoga Anatomy and Physiology
Explore how your body works during yoga. Learn about muscles, joints, and alignment. It helps you move confidently in poses.
To be precise, in the 500 hour yoga training India, you will be learning about the basics and the advanced subjects in two parts. At the end of the course, you will be able to engage yourself in practice teaching at the ashram itself.
500 Hour Yoga Teacher Training In Rishikesh India
- A Spiritual Journey
You can call the 500 hour yoga teacher training course in Rishikesh, a spiritual journey in which you will get to enjoy participation in kirtans, Ganga Arti, Sat sang, and also listen to the teachings of the Bhagavad Gita. You will also enjoy the spiritual expeditions in the Himalayan range. Visit Rishi Vasishta's caves and find out, the level of peace and serenity that that dwells there. You will also experience yoga practice on the beach of the river Ganga.
500 Hour YTT - Certification
After completing the 500 hour course, you'll receive certificates from Indian Yoga Association, Yoga Alliance USA, & Bharat Sevak Samaj.
Yoga Alliance RYT- 500
The 500-hour yoga training in Rishikesh (RYT 500) certificate is the highest qualification that every great yoga trainer wants and needs. Once you're certified, you can apply for RYT 500 in India or abroad, giving your yoga career a big boost worldwide. This certificate is recognized globally and makes you a yoga professional. Join the course to become more confident and knowledgeable.
Indian Yoga Association
The Indian Yoga Association is like a big club for yoga lovers in India. It's a group that brings together people who really like yoga and want to learn more. They make sure that yoga teachers and schools follow good rules and teach yoga the right way.
Bharat Sevak Samaj
Bharat Sevak Samaj is a national teamwork project started by the Indian government in 1952. They want to help people learn useful skills for jobs. This way, more types of education are available, and it's easier for people to find work. Its aim is to give everyone a chance to be skilled at their job!
Frequently Asked Questions
Each batch usually has around 15 students. It's a good number because it's not too big, so everyone can get proper attention and learn well together.
No, becoming vegetarian isn't a must. Yet, having a diet rich in fresh fruits and veggies lets your body focus on other things. Non-vegetarian food takes longer to digest. Many yogis choose vegetarian diets for feeling light and increasing lifespan.
This course will teach you two main styles: Hatha Yoga and Ashtanga-Vinyasa Yoga. You'll learn all the poses from these styles, along with breathing exercises and meditation. You'll also learn about bandhas, mudras, and kriyas. We will also teach you how to put poses together, do them correctly, and make changes.
You will get the certificate after attending all the sessions, finishing the assignments, and examination. After you clear the examination, you will get the certificate and after that the RYT 500 certificate.
Shiv Holistic Yoga School is the best for doing this course in Rishikesh. It is located at a very peaceful location and offers amazing facilities to its students.