300 Hour Yoga Teacher Training in Rishikesh india
300 hour yoga teacher training in Rishikesh is the next step after completing the 200 hour Yoga Teacher Training . This course will give your yoga teaching career a head start. If you want to become a professional yoga trainer one day, then you should choose this course. It will make you a better yogi than most of the new yoga trainers in the market by helping you learn new yoga techniques. You will learn many new skills and the yoga poses you did in the 200 hour course in deep detail. Now, that will ultimately give you an advantage while looking for a yoga teacher job.
Rishikesh is a peaceful and special place in the heart of India where people go to learn and practice yoga. And guess what? Our school, Shiv Holistic Yoga School, that offers really cool programs to become a yoga teacher is in the most peaceful location of all Rishikesh. If you're into yoga and want to take your skills to a whole new level, join our 300 hour yoga teacher training in India. After finishing the course, you will receive a certificate which will make you eligible to teach in any part of the world. Now, let's find out the details of this course.
The 300 hour Yoga Teacher Training India Overview
join our 300 hour yoga teacher training in India.We teach you how to do yoga in a really amazing and traditional way, but we also mix in some cool modern stuff. It's a place where everyone, whether you're just starting out or a pro yogi, can learn and grow.
In our 300-hour Yoga Teacher Training, we go beyond the basics. You may have experienced Hatha Yoga, Ashtanga-Vinyasa Yoga, and Kundalini Yoga in the 200 hour yoga teacher training, but in our 300 hour yoga training India, it's time to truly understand them. We'll guide you through the details of these yoga forms, helping you master these poses.
Yoga is not just about physical postures; it helps you live a meaningful life as well. Learn about the philosophical scriptures and sutras that form the foundation of yoga.
While poses look attractive, the breath is the true heart of yoga. In this course, we will focus on breathing techniques as well. You'll learn how to breathe with your body. Understanding the science of breathing and its different types will help you know the true meaning of yoga.
Our yoga teacher training in Rishikesh will teach you about meditation, bandhas (energy locks), mudras (hand gestures), the power of mantras, and the beauty of chanting in detail. The ancient practice of Shatkarma Kriya will become a part of your daily routine as well.
Detailed Guide On The 300 hour Yoga Teacher Training Rishikesh
Get ready to become a yoga trainer through the 300 hour Yoga Teacher Training in Rishikesh! Learn different yoga styles and improve your skills. This course will help you become a successful and confident yoga teacher.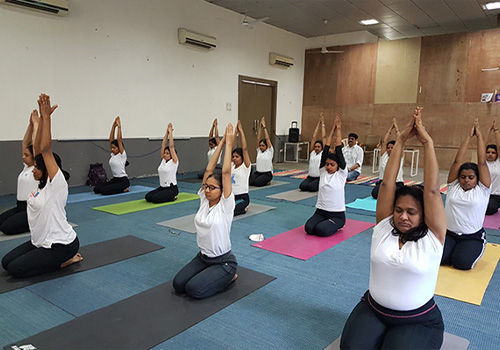 Hatha Yoga
Hatha Yoga is about gentle poses and breathing. It makes your body stronger and helps you feel relaxed in your mind.
Ashtanga-Vinyasa Yoga
In Ashtanga Vinyasa Yoga, you move smoothly between poses while breathing. This makes you more flexible and strong, and it's really fun!
Restorative Yoga
Restorative Yoga helps you relax deeply. You use things like pillows to do gentle stretches, which makes you feel calm and refreshed.
Therapeutic Yoga
Therapeutic Yoga is like customized yoga. It's designed for your needs to make you feel better physically and emotionally.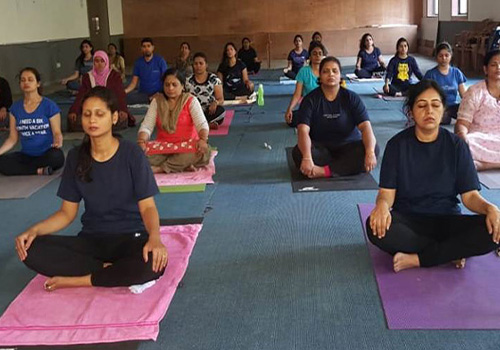 Yoga Pranayama
Learn special breathing in Yoga Pranayama. It helps you feel more energetic, calm, and focused by teaching you how to breathe in a special way.
During the 300 hour yoga teacher training course Rishikesh, you'll do more than just poses. You'll do activities like kirtans (singing), Ganga arti (river ceremony), and sat sang (spiritual talks). You'll also learn from the Gita, a spiritual book. These experiences will make your yoga journey even more special. Also, all of this will happen near the holy river in Rishikesh.
This course will help you grow your yoga career. No other school, like Shiv Holistic Yoga School, can give you the skills you need.
300 Hour YTT - Certification
Completing the 300 hour YTTC course is a great achievement! Once you finish, you'll get special certificates from Yoga Alliance USA, Indian Yoga Association, and Bharat Sevak Samaj. These certificates are a badge of honor for your yoga skills.
Yoga Alliance RYT- 300
After completing the 300 hour yoga TTC in India, you should apply for RYT 300. These certificates aren't just pieces of paper – they're your key to success in the field of yoga training. When you search for yoga jobs, these certificates will make you stand out. People all around the world recognize them, so you'll have a better chance of finding your dream yoga job.
But that's not all! These certificates also welcome you into a global yoga community. This means you'll get to learn more for free and attend new courses at lower prices. It's like being part of an amazing yoga family.
When you start teaching, these certificates will help you a lot. People will know that you've had top-notch training and will respect you for it. The RYT 300 yoga teacher training India will help you become a yoga expert with a deep understanding of the practice that few people have.
Indian Yoga Association
Shiv Holistic Yoga School has been registered by Bharat Sevak Samaj and Indian Yoga Association. Indian Yoga Association is all about sharing yoga everywhere and doing lots of research on it. They want to spread yoga traditions and learn more about it.
Bharat Sevak Samaj
Bharat Sevak Samaj is a national development agency started by the Indian government in 1952. They want to help people learn skills for different jobs. This way, more people can get good jobs and have better chances in their careers.
300 Hour Yoga Teacher Training
Learn tough poses in Hatha & Ashtanga Yoga. Get stronger and flexible by doing cool yoga moves.
Understand why yoga is more than exercise. Learn about yoga's deep ideas and teachings.
Explore how yoga affects your body. Know how muscles and bones work during yoga.
Get good at teaching yoga. Learn how to lead yoga classes with fun and safety.
Discover how yoga helps heal. Learn to use yoga for feeling better physically and mentally.
Learn to calm your mind and breathe well. Meditation and pranayama are mind and breath practices.
Relax deeply with yoga nidra. It's like a special nap that helps you feel super refreshed.
Understand how yoga is a job too. Learn how to be a good yoga teacher and run a fair business.
Find out more about yourself. Grow as a person while doing yoga and learning about you.
Practice teaching yoga for real. Get experience by training others in yoga classes.
Daily Schedule
| Time | Session |
| --- | --- |
| 05:30 AM - 6:00 AM | Morning Bell |
| 06:00 AM - 07:30 AM | Hatha Yoga |
| 07:45 AM - 08:45 AM | Pranayama/ Bandhas/ Mudras/ Mantra chanting |
| 09:00 AM - 10:00 AM | Breakfast |
| 10:30 AM - 11:30 AM | Yoga Philosophy |
| 11:30 AM - 12:00 PM | Break |
| 12:00 PM - 01:00 PM | Teaching Methodology |
| 01:00 PM - 01:45 PM | Lunch |
| 03:00 PM - 04:00 PM | Yoga Anatomy/Alignment Class |
| 04:00 PM - 04:15 PM | Break |
| 04:15 PM - 05:45 PM | Ashtanga Yoga |
| 06:00 PM - 07:00 PM | Meditation/Yoga Nidra/Yoga Therapy |
| 07.00 PM - 07:45 PM | Dinner |
Note : The above schedule will be followed from Monday to Saturday. Thursday will be half-day and Sunday will be a free day.
Accommodation Meals Activities
When you join the 300 hour yoga teacher training course India, you'll have all the basics you need. Yoga is about simple living, so you'll have comfortable beds and everything you need in your room, like a bathroom. Just ask early for extra stuff. We serve healthy food, mostly fruits and veggies. And guess what? We even teach you some awesome recipes so you can recreate them at home.
But wait, there's more! During the 300 hour yoga course India, you won't just be doing yoga classes. Nope, you'll also get to go on exciting trips to some cool places like caves, the Ganga river, and forests.
And if you're into exploring the religious side, you're in luck. You can visit temples close by and connect with that part of yourself. So get ready for an awesome journey.
Frequently Asked Questions
You should choose the school as teaches authentic yoga with a modern twist, to suit the modern lifestyle. The teacher also has years of experience, and are the best in the field. There are students from across the globe at the school.
We have small batches of maximum 10-15 students. So, you will get personalized attention and can also get all your doubts cleared on the spot.
After you finish all your assignments and do well on the exam, you'll get the RYT 300 India certification. You can get it after the YTT 300 India certification. It's like a reward for your hard work!
Absolutely, Rishikesh is an awesome place to learn yoga! It's the yoga capital of the world in the mountains of India. The peaceful vibe and spiritual feeling there make it perfect for learning yoga. The Ganga river also adds to the beauty.
Yes, you can. Complete the 300 hour yoga teacher training course India from our yoga school, get your certificate and start teaching anywhere you want in the world.