200 Hour Ayurveda Yoga Teacher Training in Rishikesh,india
200 hour Ayurveda yoga teacher training rishikesh is one of the most popular courses at Shiv Holistic Yoga School today. So, many Ayurveda enthusiasts are joining such courses. In the spate of recent events, many firms also came up with the idea of Ayurvedic therapies and that has created many jobs in the market. To make matters simple for all our readers and prospects, 'Ayurveda is the science, and Yoga is its application'. Now, you must have understood the relationship. At Shiv Holistic Yoga School, we take the Ayurvedic route in terms of lessons on asanas, Ayurveda treatments, and healing modalities. It is believed, that if you adopt an Ayurvedic Yoga, you can prevent illnesses and also fight viruses and bacterial infections. If you want to be a certified Ayurveda Yoga teacher, then you must enroll in the 200 hour ayurveda teacher training course. Let us find out how it came to be one of the irreplaceable parts of our lives.
Ayurveda in India
Ayurveda emphasizes holistic wellness. You must be well-conversant with these words and phrases by now. Ayurveda is a science and an art as well, which can help in balancing both our astral bodies and physical bodies. India has a rich and diverse history of following traditional forms of medicine. Moreover, you will come in contact with terms such as Ayurveda, Siddha, as well as Unani, in relation to treatment modalities quite often. Moreover, these find mentioned in the Vedic texts and Upanishads, as well.
According to Ayurveda, food is an important tool, through which you can enjoy the benefits that Ayurveda bestows upon us. Additionally, you need to follow certain routines on a daily and seasonal basis, which can give your health an instant boost as well as long-term protection against diseases. Ayurveda in Rishikesh is a popular discipline, that yogis have adopted in totality. Yoga and Ayurveda go hand-in-hand, as it also clears the nadis, through asanas. When you apply Ayurveda, it has to percolate to the organs and tissues, and for that to happen, yoga is a must. Additionally, sattvic food is closely related to this discipline. You become, what you ingest. And, that is the message that Ayurveda tries to drive across. Yoga and Ayurveda are together responsible for delivering holistic wellness.
Ayurveda Yoga Teacher Training In Rishikesh, India
At Shiv Holistic Yoga School, you will be able to enroll in the Ayurveda course Rishikesh. The 200 hour ayurveda teacher training Rishikesh will give you a foundational idea about the discipline. You will be able to pursue the course, in accordance with the guidelines of Yoga Alliance USA. There are highly experienced teachers, who have been practicing Ayurveda for a long time. So, you will get the best knowledge in this discipline today. The 200 hour ayurveda yoga teacher training India mainly focuses on the basics of Ayurveda, and its effects on the mind and the body. The syllabus has been well-crafted by experienced faculty and incorporates theory as well as practical learnings. The course is a residential one, which takes care to put you, as a student into a routine.
The 200 hour ayurveda yoga teacher training india includes Ayurveda, Hatha Yoga, Pranayama, Meditation, Anatomy, Philosophy, Alignment-Adjustment, Teaching Methodology, Kirtan and various spiritual activities, Ganga Arti, excursions and more. The syllabus happens to be quite elaborate. So, you will be learning about the Ayurvedic science and its sister science as well. Apart from classroom lectures, you will get the opportunity to learn about the discipline in nature. Learn about various kinds of medicinal plants and their practical applications, in the realm of medicine as well. There is yoga practice on the banks of the river Ganga, which will open up your senses. If you want to join the 200 hour ayurveda YTT, then Shiv Holistic Yoga School will be the best place for you.
200 Hour Ayurveda Yoga Teacher Training course
The syllabus has been crafted with a lot of care and afterthought. Apart from Ayurveda, Hatha Yoga, Pranayama, Meditation, Anatomy, Philosophy, Alignment-Adjustment, and Teaching Methodology, there are other spiritual activities that you will experience. You will learn about Bhakti Yoga as a part of the course. Additionally, Kirtan, Ganga Arti, Satsang, and Bhagavad Gita teachings are also covered under the course.
Ayurveda
is one of the holistic realms, that is preventative as well as curative. There was a time back in history, when Allopathy or the western school of medicine was not that prominent.
Hatha Yoga
In this yogic discipline, you will be practicing several asanas. Most of the asanas, that you will learn and practice, are aimed towards the treatment of diseases.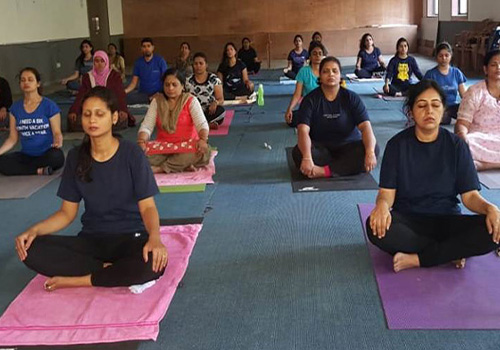 Pranayama
It is another important part of the Ayurveda course India. So, you will learn how to control and manipulate your breathing. It is something that drives lives.
Meditation
You will be introduced into the realm of meditation, in the hands of our esteemed gurus. Mantra meditation and guided meditation are the two forms of meditation, that you will come across.
Teaching Methodology
It is a form of yoga, in which you pay reverence to God. It may be a deity whom you look up to, or the universal consciousness. It can be your teacher as well. Those who practice Bhakti Yoga.
Additionally, mantra chanting, kirtan and sat sang, add another dimension to the practice. When you recite the syllables repeatedly, they create vibrations that communicate with the cosmic consciousness. As a part of the Ayurveda course, you will also be able to attend nature excursions. Visit the caves and crevices, where various seers and sages have practiced yoga since centuries. You will also be able to experience the same divinity in connection with Mother Earth, in all such places.
200 HOUR AYURVEDA YTTC DATES
1st Oct to 25th Oct 2023
3 seats left
1st Nov to 25th Nov 2023
3 seats left
1st Dec to 25th Dec 2023
5 seats left
1st Jan to 25th Jan 2023
4 seats left
1st Feb to 25th Feb 2023
7 seats left
1st Mar to 25th Mar 2023
6 seats left
1st Apr to 25th Apr 2023
8 seats left
200 Hour Ayurveda Teacher Training
You will learn the basic principles of Ayurveda, including the three doshas, the five elements, and the concept of prakriti (individual constitution).
You will learn about the Ayurvedic diet and how to create balanced and nourishing meals according to individual doshic needs.
You will learn about various Ayurvedic lifestyle practices such as daily routine, seasonal routine, and self-care practices.
You will learn how Ayurveda and Yoga are related and how to integrate Ayurvedic principles into your yoga practice and teaching.
You will learn how to perform and teach a variety of asanas, including their alignment, modifications, and variations.
You will learn about the roots of yoga and the different philosophical schools of thought that have influenced its development over time.
You will study the human body and its systems, as well as how they relate to yoga practice and teaching.
You will learn various breathing techniques that are used in yoga, and how to incorporate them into your teaching.
You will learn different techniques for meditation and mindfulness, as well as their benefits and how to teach them.
You will learn how to sequence a yoga class, create lesson plans, adjust students' postures, and use props.
You will learn about the ethical principles that guide yoga teaching, as well as professional conduct and communication skills.
You will have the opportunity to practice teaching yoga, receive feedback from your peers and instructors, and refine your teaching skills.
Daily Schedule
| Time | Session |
| --- | --- |
| 05:30 AM - 6:00 AM | Morning Bell |
| 06:00 AM - 07:30 AM | Hatha Yoga |
| 07:45 AM - 08:45 AM | Pranayama & Mantra Chanting |
| 09:00 AM - 10:00 AM | Breakfast |
| 10:30 AM - 11:30 AM | Yoga Philosophy |
| 11:30 AM - 12:00 PM | Break |
| 12:00 PM - 01:00 PM | Teaching Methodology |
| 01:00 PM - 01:45 PM | Lunch |
| 03:00 PM - 04:00 PM | Yoga Anatomy/Ayurveda Practicals |
| 04:00 PM - 04:15 PM | Break |
| 04:15 PM - 05:45 PM | Ayurveda Theory |
| 06:00 PM - 07:00 PM | Meditation/Yoga Nidra |
| 07.00 PM - 07:45 PM | Dinner |
Note : The above schedule will be followed from Monday to Saturday. Thursday will be half-day and Sunday will be a free day.
Best Ayurveda Course India
The Ayurveda course Rishikesh has the power to change the direction of your life. When you enroll for the course at the school, you will be able to explore various dimensions, that were unheard off, since some time back. You will be able to delve deep within, and discover s elf, that was hidden in several layers. The study of Ayurveda and Yoga together, will help you to get the quality of life, that you are aiming for. The courses are designed in keeping with the basic capabilities of the students. Anyone from any walk of life, can go for such courses today.
Get ready to be a part of a traditional course in India, under the guidance and tutelage of learned teachers.
Rishikesh is in itself a location, that has the power to transform your thought and body patterns. To discover the hidden secrets of Yoga and Ayurveda, no place is as good as Rishikesh.
You cannot find a more affordable course, than the one you get at the school.
The course comes in standard version under the aegis of Yoga Alliance USA. So, you become employable across the globe.
Frequently Asked Questions
You can prepare for the course, by checking the requirements for the 200 hour ayurveda teacher training rishikesh. If possible, read a few books to know what you are going to encounter. Additionally, an open mind and receptive demeanor are the tools, which will prove enough for you.
Yes, the 200 hour ayurveda teacher training rishikesh is enough for you to teach yoga globally.
No, it is not necessary. The teachers will start from the basics. However, you can go through a few books for an idea.